Lottie is committed to job creation, retention, and long-term growth practices that positively impact social, environmental, or cultural aspects of the community.
We provide opportunities for access to fair labor; prioritize working with governments, communities, and civil society to advance policies and incentives that unlock the economic and social potential of marginalized groups while avoiding countries that have a reputation of exploiting laborers as well as copying other designers' work.
Our commitment to our artisan partners is a daily constant as we strive to better their lives through our own ever-evolving business practices.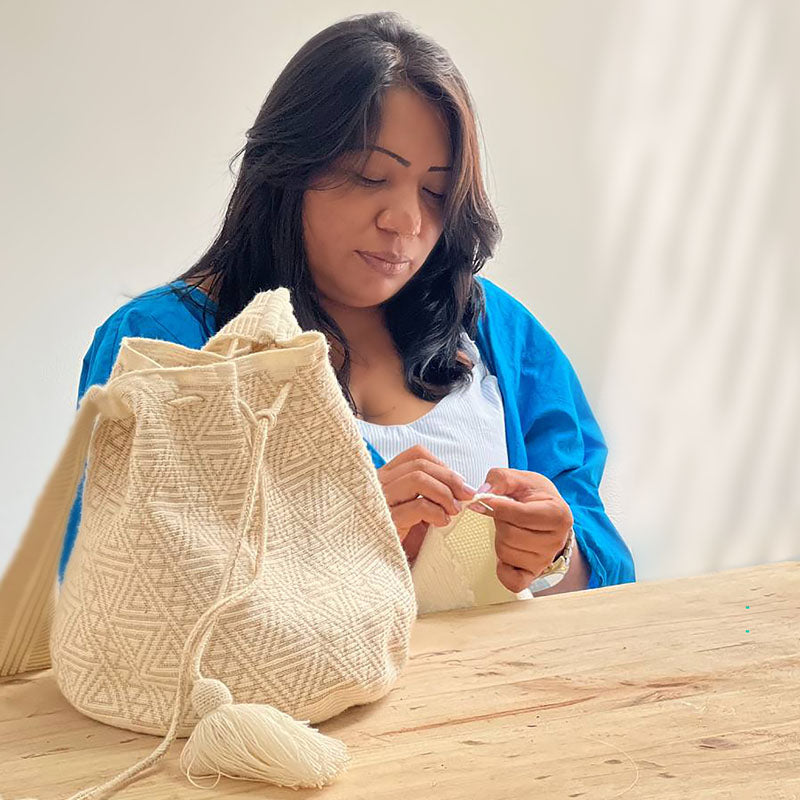 Indiginous Wayu Rancherias
Our weavers and thread embroiderers come from a group of elderly women (65+) called Rancherias who belong to the indiginous Wayu community in Guajira, Colombia, a very rural area. These women ancestrally pass on their knowledge to the women of each generation, and use it to sustain their families. They don't have water, bathrooms, or any sanitation system. The people in this region are typically very malnourished, lack resources, and are neglected by the government. They work with raw colored cotton, wool threads, nylon, needle, fabrics, leather, pebbles, and shell crystals.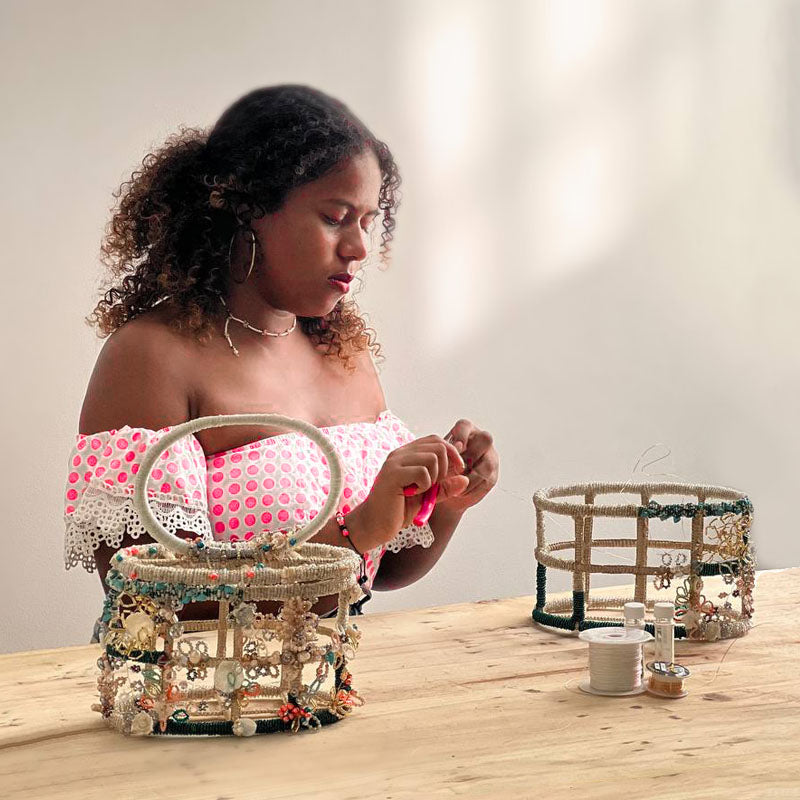 Recamadora Chambermaids
The Recamadoras are another group of weavers that use knowledge and practices passed on from generation to generation. They weave in nylon, on fabrics, or in wax threads on leather and any biodegradable or recycled material. They are experts in placing sequins and beads.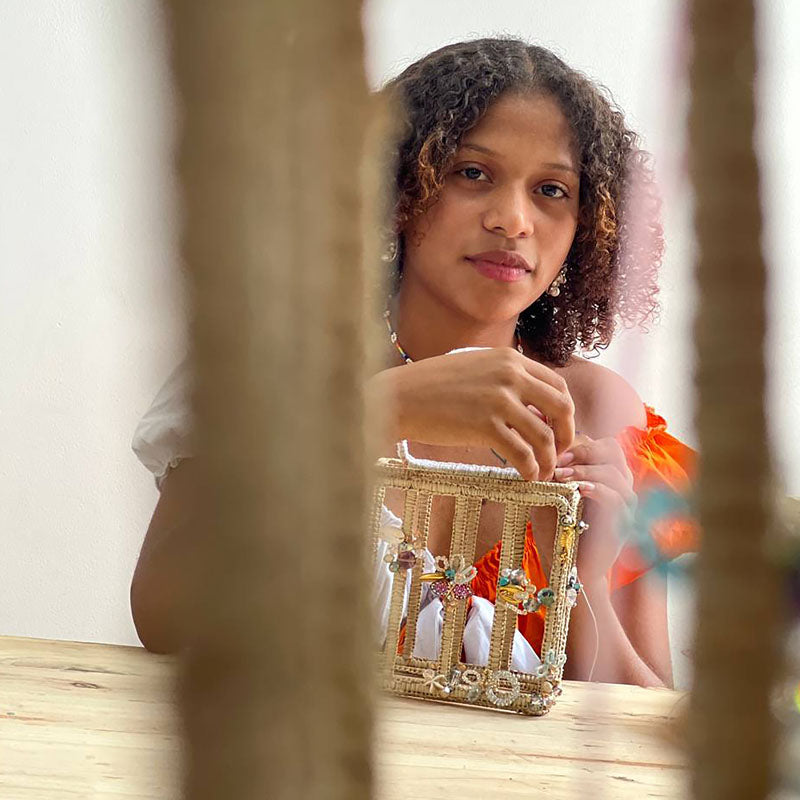 Iraca Palm Artisans
Our palm artisans are a group of men and women between 30-50 years old from Guajira who relocated to more urban Santa Marta and Riohacha. They use ancestral knowledge and techniques to create our beautiful wallets and bags. First the palm is dried and immunized to remove bacteria and germs. There is then a group industrial engineer who creates wire molds to give firmness and consistency to the pieces before the palm is weaved.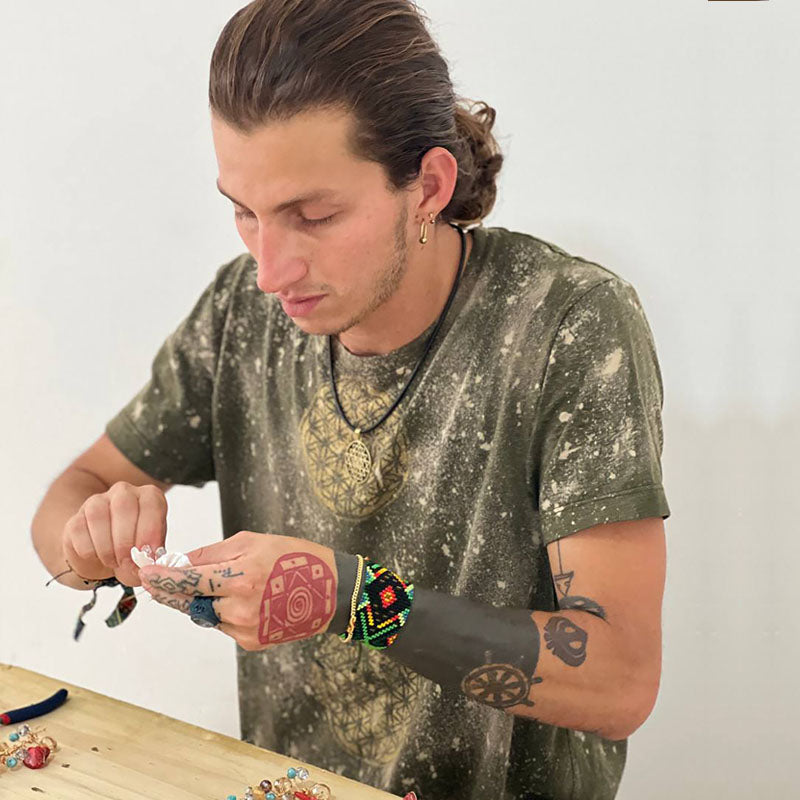 Wire Artisans
Our wire artisans are a group of young women and two men (18-29 years) in Santa Marta, Colombia. They are from a very underprivileged group who experiences violence, neglect, and poverty. It's not uncommon for ten people to live in one house, and many people from this group have been incarcerated. This group gives its members an opportunity to exchange their weapons for tweezers, and reintegrate into society. They are in charge of embellishing the pieces in palm, and jewelry that includes wire embroidery using 24-karat gold-plated bronze wire fabrics and silver wire.